Management Team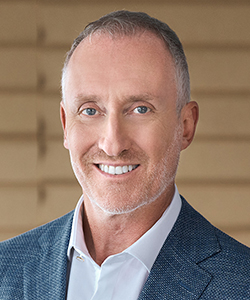 Luc Fortin
President and Chief Executive Officer, Montréal Exchange & Global Head of Trading, TMX Group
Luc Fortin is President and Chief Executive Officer of the Montréal Exchange (MX) and Global Head of Trading, TMX Group. His key responsibilities include leading growth in TMX's equities, derivatives, and fixed income trading businesses and delivering a world-class experience to a global client base. In 2021, his mandate was expanded to include oversight and strategic direction of Canadian Derivatives Clearing Corporation (CDCC) and the Canadian Depository for Securities (CDS), TMX's post-trade businesses, and crucial components of Canada's capital markets infrastructure.
Prior to joining MX in 2016, Mr. Fortin had a 25-year career in Canada's capital markets, leading client-facing teams in fixed income and derivatives. He had previously served as Managing Director, Canadian Head of the Institutional Client Group at HSBC Bank Canada, leading their institutional businesses in rates and credit, derivatives, foreign exchange and money markets. Before his time at HSBC, he held senior leadership positions at TD Bank and TD Securities.
From 2006 to 2010, Mr. Fortin served as a board member for the Investment Industry Association of Canada (IIAC) and was previously Board Chair of CANMarket Data.
He is a graduate of the TD Securities Leadership program at Ivey Business School and holds a Bachelor of Commerce degree from the University of Ottawa.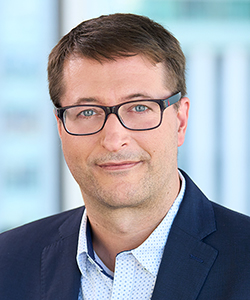 Etienne Charlebois
Head of Delivery, TMX Markets, and GTS Application Service Delivery, TMX
Etienne Charlebois is Head of Delivery for TMX Markets. In this role, he's responsible for designing and delivering IT trading solutions including solutions for the SOLA® derivatives trading and TMX Quantum XA® trading platforms.
Mr. Charlebois joined Montréal Exchange's IT Development team as a business analyst in 2007. He occupied multiple roles within the architecture team, and subsequently held the position of Director of Architecture in 2014.
Since starting at TMX, Mr. Charlebois has led or contributed to several major technology initiatives and gained exposure to international exchange partners and global industry vendors.
Prior to joining the Exchange, Mr. Charlebois worked in the automated payment processing and mutual fund industries. Mr. Charlebois holds a Bachelor in Business Administration from Université Laval.
Antonio Discenza
Managing Director, Derivatives Trading Operations
Antonio Discenza heads Montréal Exchange's (MX) Derivative Trading Operations and is responsible for ensuring the maintenance of fair and equitable markets, facilitating off-exchange transactions as well as providing technical and connectivity support for all MX clients.
Mr. Discenza brings to this role extensive experience, having held several positions at MX since 2002, including as investigator in MX's Regulatory Division and as market supervisor in the Derivatives Trading Operations. Prior to joining MX, Antonio worked in the fixed income derivatives space as an institutional derivatives broker for National Bank Financial.
Mr. Discenza holds a Bachelor of Commerce degree in Finance from Concordia University. A member of the Futures Industry Association, the leading global trade organization for the futures, options and centrally cleared derivatives markets, Mr. Discenza also sits on its Operations Americas Division Committee.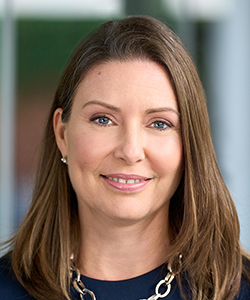 Karen McMeekin
Vice President and Chief Regulatory Officer
Karen McMeekin is Vice President and Chief Regulatory Officer of the Regulatory Division, responsible for leading the self-regulatory functions of the Montréal Exchange (MX). She is responsible for maintaining fair and equitable markets by promoting innovation, transparency and collaboration with various stakeholders.
Ms. McMeekin brings to this role extensive experience, having held various positions at MX since 2001, including Director, Strategy and Regulatory Outreach; Director of Examinations, Regulatory Division; Business Development Manager, Equity Derivatives, and Head of Market Operations. Prior to joining MX, she began her 25-year career in the listed derivatives market as a futures broker on the Montréal trading floor for TD Securities and Richardson Greenshields.
Ms. McMeekin holds a Bachelor of Arts degree in Economics from Concordia University and is a member of Women in Capital Markets, a national not-for-profit organization focused on accelerating equity, diversity and inclusion in the finance industry.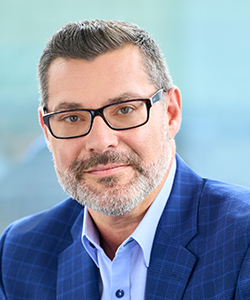 Robert Tasca
Managing Director, Derivatives Products and Services, Montréal Exchange
Robert Tasca, Managing Director, Derivatives Products and Services with TMX Group, at the Montréal Exchange, is responsible for managing the derivatives portfolio, specifically fixed income and equity derivatives. Robert's team focuses on enhancing the current derivatives product portfolio and developing new products, in addition to strategic initiatives and partnerships to help drive value to its clients.
Robert joined the Montréal Exchange in 1998, where he began his career in the open outcry pits or "floor" in Montréal, transitioning to the electronic platform in October 2000. With over 20 years of derivatives experience, Robert brings a full-service perspective to Montréal Exchange's customers.